Happy Middle of the Week!
I have decided to join Lindsey at The Teacher Wife for her linky party. I love picture books and I just couldn't resist sharing 5 of my favorites.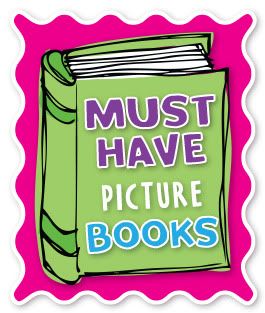 1. One of my VERY favorite authors is Eric Carle (who doesn't love his books). I am very lucky that my school is within a short bus ride to a theater that brings great plays for students to our area. Each year, I take my students to see a play that is based on Eric Carle books. The very favorite part of the play is The Very Hungry Caterpillar. Then we spend the afternoon making papers like Eric Carle does to use to make different characters from the book.
2. My other very favorite author is Jan Brett. I love to show my students how all of Jan Brett's illustrations have a frame around them and how if you look carefully at the frame it shows you what will happen next in the story. A few years ago, the 1st/2nd grade teacher was with one of her students at our Scholastic Book Fair. She said that the student pointed to a Jan Brett book and said he knew the author of that book was Jan Brett because of the frames around the pictures. I guess someone was listening to me. It is difficult for me to choose my favorite Jan Brett book but I think The Gingerbread Baby is my favorite. I have it in big book form and my students love it.
3. Another book I love to share with my students is Corduroy. It is one of my favorite books from my childhood. Many of my students haven't heard this book before. I use it during my teddy bear theme.
4. The book Brown Bear, Brown Bear What Do You See? is another favorite book in my classroom. It is one of the books that my students can read by themselves. It makes them feel like the are "readers" at the beginning of the school year. I try to use many books like this to stop the "I can't read"s and help ALL of my students feel like they are successful readers.
5. My last favorite book to share with my students is Chicka Chicka Boom Boom. It is another book my students can read themselves at the beginning of the year. We also make Chicka Chicka Boom Boom trees and sing the song on the Jack Hartmann CD at the beginning of the year. It is a wonderful way to teach my kids that reading is fun and to help them become excited about reading.
Thank you for visiting my blog today.